When your CBRNE mission relies on capable, confident personnel who are primed for operational success, Signature Science can customize training and mission rehearsal exercises to your unique objectives and deliver a precise instructional package.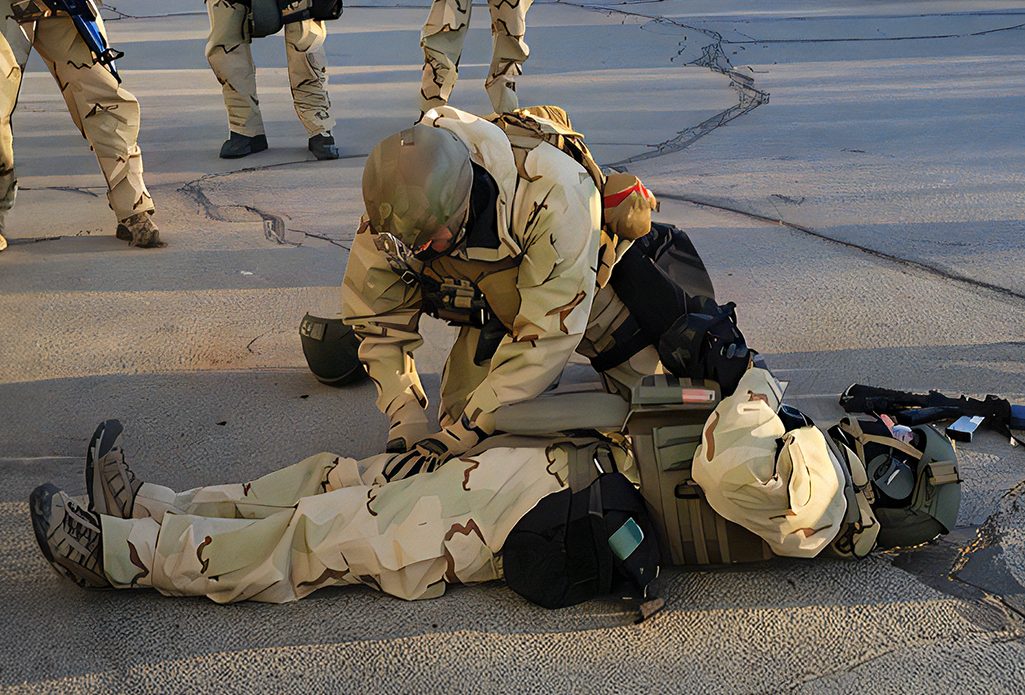 Facts Bearing on the CBRNE Challenge
The National Security Strategy, National Military Strategy and the DOD Strategy for Countering WMD identify WMD as one the key security challenges facing the U.S.
Potential adversaries continue to pursue CBRNE capabilities to enhance their stature and provide leverage against the U.S., its allies, and its interests
Counter-CBRNE is an enduring mission for specialized civilian HAZMAT response units, DoD and Special Operations Forces
Units require a credible training program that provides the requisite technical understanding of the varied CBRNE threats and prepares its members to safely conduct mission activities (ID, control, defeat, disable, exploit, and disposal) across operational continuum. Signature Science provides decades of experience and vetted solutions to satisfy persistent training challenges.
Technical Training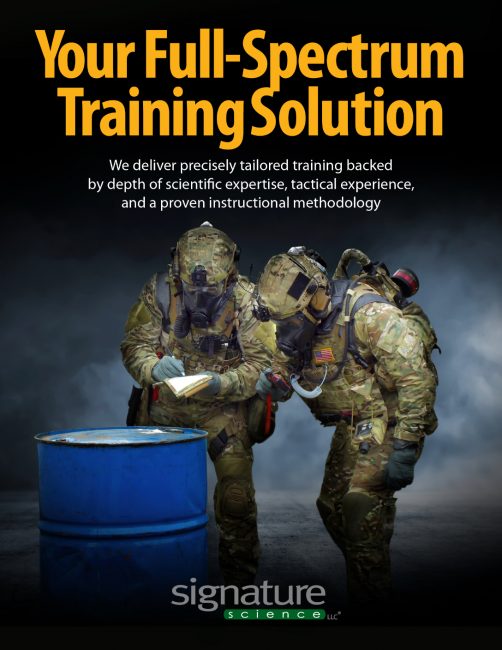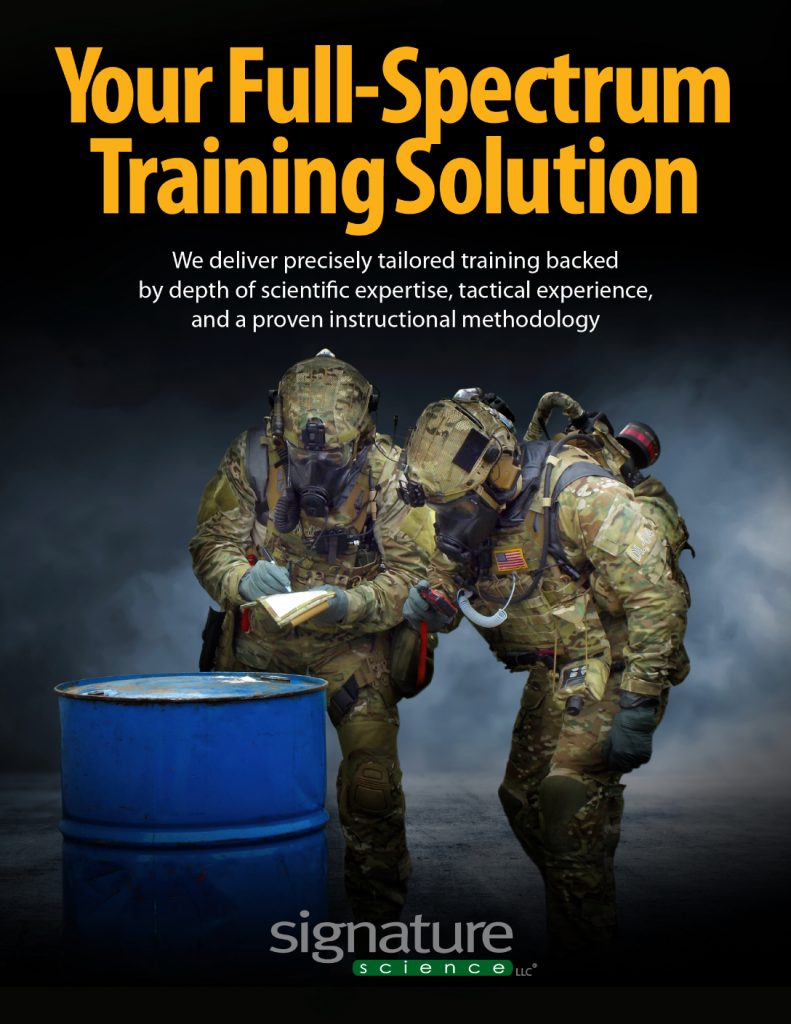 Signature Science's instructors are scientists with applied experience, to include deployments and military service, who excel at effectively communicating complex technical information to students with limited scientific experience. Signature Science maintains a robust catalog of more than a dozen CBRNE-related training courses. Further, we encourage the customization of our off-the-shelf courses to maximize relevance to a unit's educational and training needs.
Signature Science's technical training is centered around safe and effective CBRNE site exploitation, accomplished using a combination of lecture, hands-on practical exercises (PEs), and scenario-based training exercises (FTX). Active learning is emphasized, with hands-on exercises in which students manufacture agents or critical intermediates of interest using our standard operating procedures (SOPs) under instructor supervision. Realistic lab setups are a Signature Science hallmark and, in our laboratory exploitation PEs and FTXs, students perform site exploitation of highly realistic CBRNE labs with emphasis on completing tasks with unit SOPs and equipment.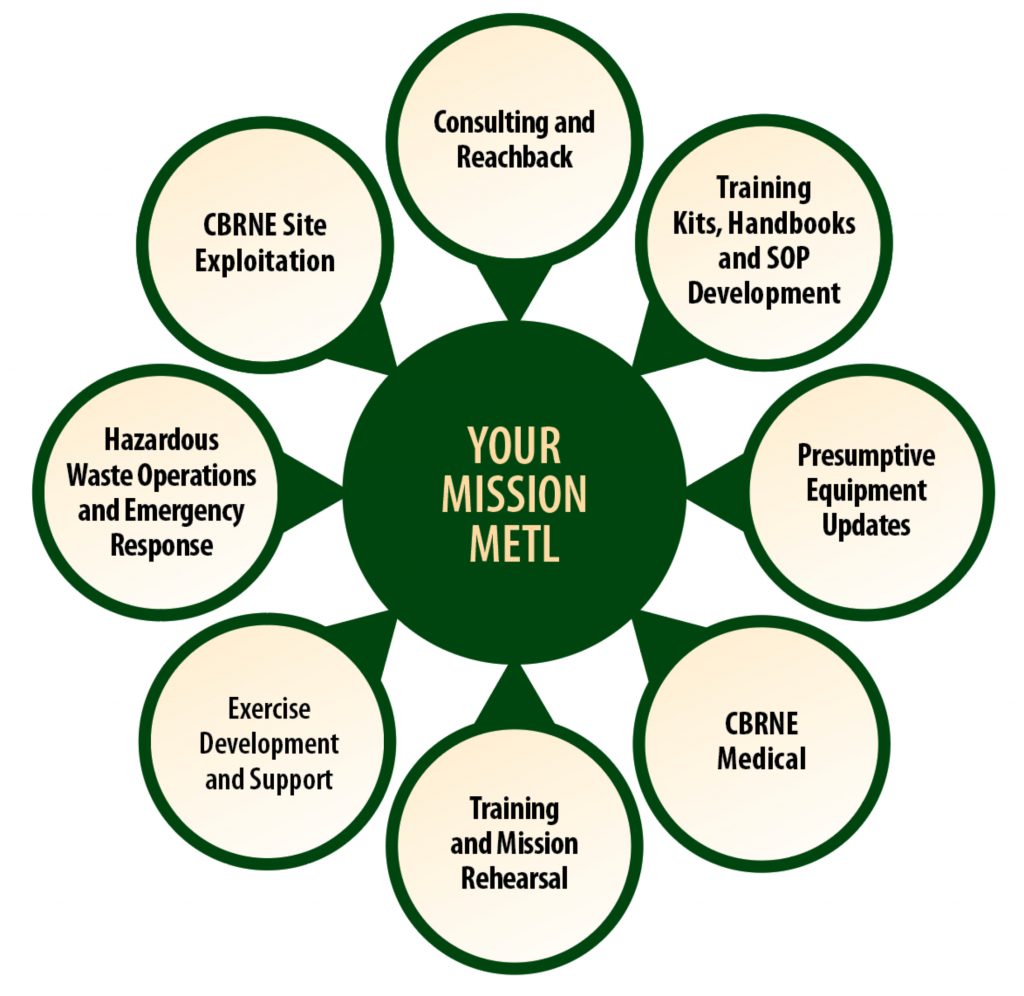 Field Training Exercise (FTX) Kits
Signature Science's FTX kits allow organizations to leverage our industry leading CBRNE technical training expertise, creativity, and attention to detail anytime, anywhere. Our CWA, BWA, R/N, and HME FTX kits are turn-key, containing all the hardware, glassware, props, and supplies for training and sustainment FTXs. Simple set up instructions afford quick and easy assembly. These realistic, complex FTX kits make it easy for units to train against CBRNE targets incorporating both laboratory and rogue scale labware, precursors, and intermediates.
Presumptive Field Instrumentation Libraries
COTS instruments come loaded with COTS libraries. Based on the current threat landscape, these COTS libraries leave gaps in capability that can be the difference between mission success and mission failure. Signature Science generates custom instrument libraries to fill these gaps and ensure CBRN and EOD units are best equipped to execute their mission.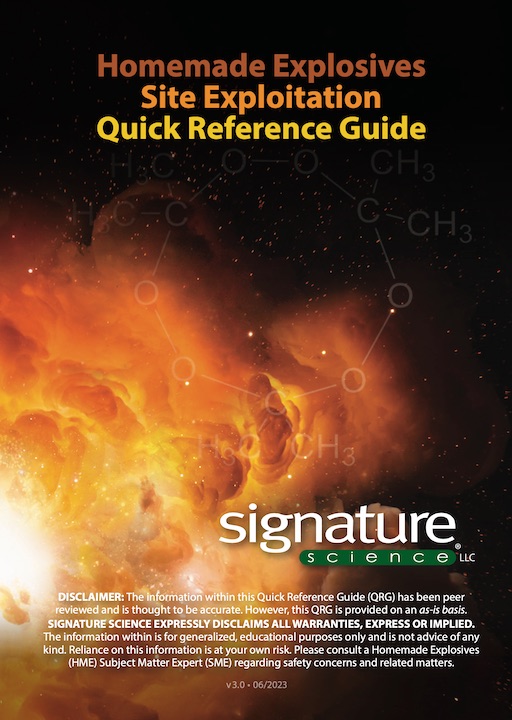 Quick Reference Guide
Signature Science's Homemade Explosive Quick Reference Guide (HME QRG) is sold solely to United States military and law enforcement personnel to support safe and effective site exploitation of suspect HME production facilities. The HME QRG information and layout are curated specifically for use on the objective. When every second counts, Signature Science provides the critical information in a format that's easy to understand and is intuitively organized.
Additional Skill Identifiers
Safe and effective CBRNE site exploitation often requires a host of additional skills and tactics, techniques, and procedures (TTPs). These include personal protective equipment (PPE) selection, PPE don/doff, decontamination, Tactical Combat Casualty Care (TCCC), CBRNE-specific medical, firearms qualification, defensive driving, and soft skills. Signature Science partners with industry leaders in these fields to maximize the value and realism of its training and exercises.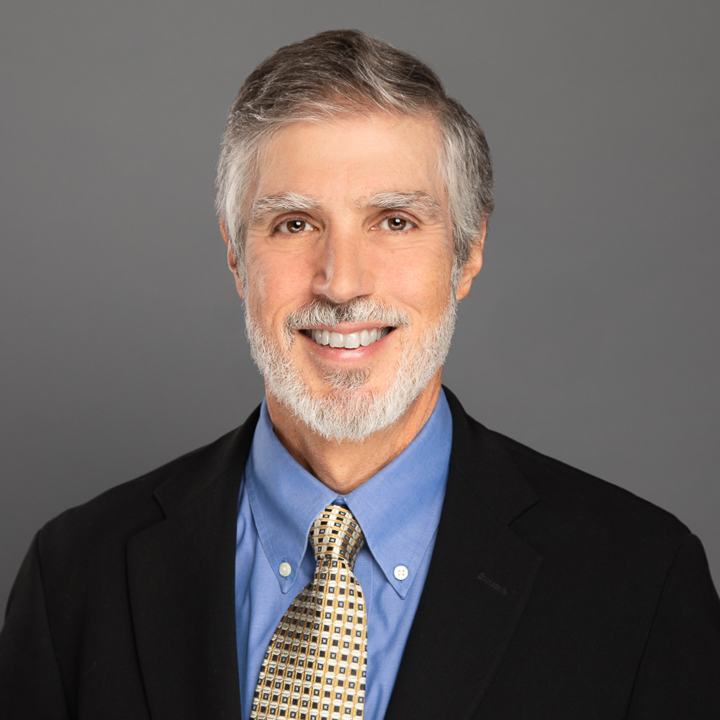 Michael Re, PhD
Director, CBRNE Sciences
For more information about CBRNE Training & Exercises