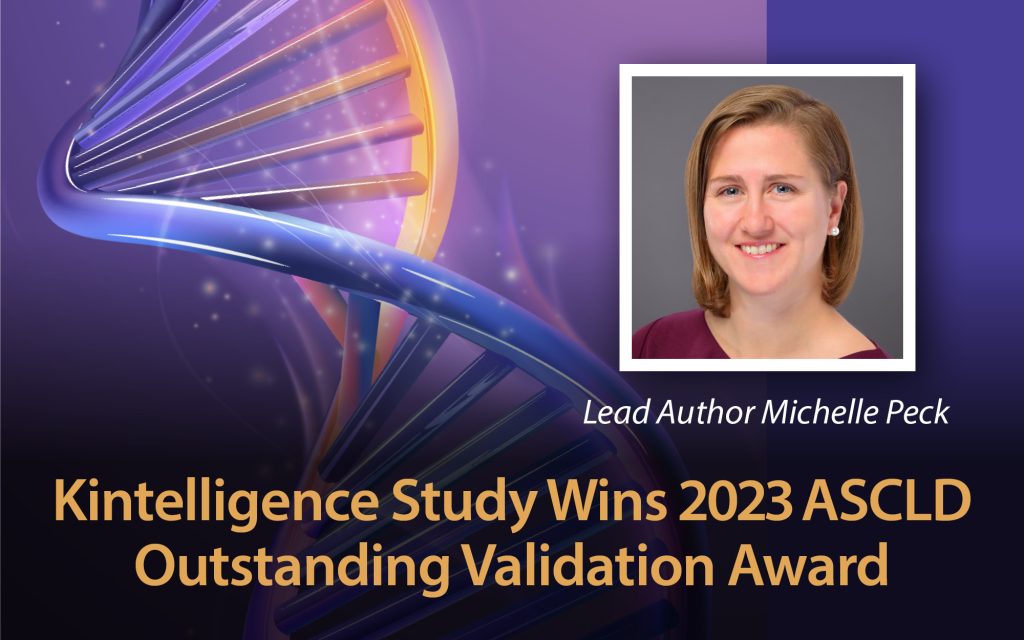 AUSTIN, TEXAS – May 18, 2023 – Signature Science, LLC is pleased to announce that the Forensic Research Committee of the American Society of Crime Laboratory Directors (ASCLD) has selected Michelle Peck and her team of authors from Signature Science's Center for Advanced Genomics (CAG) to receive its 2023 Outstanding Evaluation/Validation Award. Ms. Peck and her team were recognized for their Internal Validation of the ForenSeq Kintelligence Kit for Application to Forensic Genetic Genealogy.
To be considered for this award, the validation must be deemed immediately useful in forensic science casework. Further, it must be submitted to and accepted by the FRC Validation and Evaluation Repository. With this repository, ASCLD benefits the forensic community by increasing communication among scientists and across laboratories to avoid unnecessary duplications of work.
Ms. Peck joined Signature Science as a Genomics Research Scientist in 2021 and serves as the QC/Validation Manager at the CAG in Charlottesville, VA. Previous experience as the DNA Research and Validation Manager with the International Commission on Missing Persons enabled her to spearhead the internal validation of the Verogen Kintelligence kit for use in forensic genetic genealogy. This validation was conducted according to Scientific Working Group on DNA Analysis Methods (SWGDAM) Validation Guidelines for DNA Analysis Methods and Federal Bureau of Investigation Quality Assurance Standards. Within this validation, CAG analysts reliably generated DNA profiles with inputs as low as 50 picograms of gDNA and from challenging casework samples such as bones, fired shell casings, and adhesive tape.
"Michelle has been instrumental in onboarding and validating new-to-market technology that has helped expand our laboratory's capabilities. She is an asset to our team and is incredibly deserving of this recognition," stated Sara Szmania, Director of Signature Science's Charlottesville-based operations.
Ms. Peck received her M.F.S. from George Washington University in 2012, after completing a B.S. in Molecular Biology from Grove City College.
Ms. Leslie Parke, Signature Science's Forensic DNA Laboratory Director, accepted the award on behalf of Ms. Peck. The award was presented during the Awards Ceremony at the conclusion of the 2023 ASCLD 50th Anniversary Symposium held in Austin, Texas.
---
About Signature Science, LLC:
A subsidiary of the Southwest Research Institute, Signature Science, LLC is a scientific and technical consulting firm providing multi-disciplinary applied research, technology design and development, and scientific, technical, and operational services to government and industry.