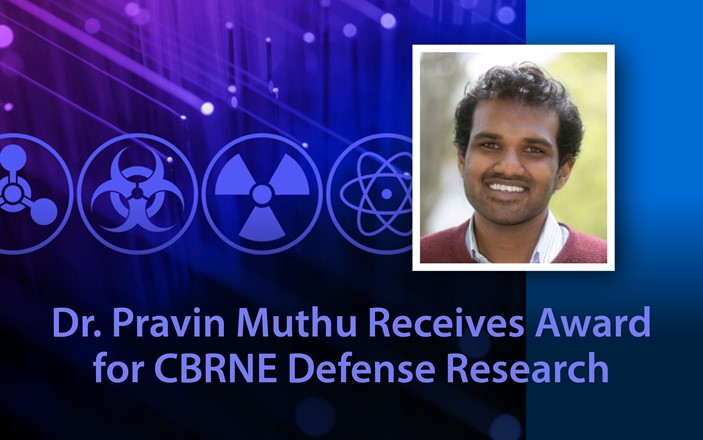 AUSTIN, TEXAS – May 19, 2022 – Signature Science is pleased to announce that the Chemical Biological Radiological Nuclear and Explosives (CBRNE) Industry Group, a non-profit association formed to advance the development of CBRNE defense capabilities with a membership of over 130 industry members, has selected Dr. Pravin Muthu as its 2022 Dr. Billy Richardson Award recipient.

Dr. Billy Richardson was an industry leader responsible for the development of multiple programs in service of the advancement of US biological and chemical defense capabilities. Dr. Richardson paved the way for CBRNE defense researchers to follow, leaving behind a far-reaching legacy that includes being among the founders of the CBRNE Industry group, and endowments for youth STEM education.

Dr. Muthu joined Signature Science in 2015. His training in engineering and chemistry and intimate knowledge of mathematical models for chemical/biological systems and their translation to applied disciplines has allowed Dr. Muthu to contribute positively to several CBRNE defense projects for the Department of Defense, the Department of Homeland Security, and the Intelligence Community. Dr. Muthu primarily focuses on developing detection and identification algorithms and system control software to identify chemical and biological threats using next-generation sensors and scientific instrumentation. Most recently, this expertise has been applied to the development of the CHEMERA ® Next Generation Chemical Identifier – a ruggedized field-portable solid, liquid and vapor chemical detector, built to achieve laboratory-grade field identification results with unmatched sensitivity, selectivity, and speed.

"It's great to see Pravin get the recognition he deserves based on his years of hard work and tireless dedication to the CBRNE field. His algorithm work has been a real game changer and has allowed us to truly move the needle when it comes to next generation detection and identification," said Danielle Dickinson, Signature Science's Director of Systems Design & Integration.

Dr. Muthu received his Ph.D. in Chemistry from Emory University in 2015, after completing a B.S. and M.S. in Chemical Engineering from Johns Hopkins University.

The award was presented to Dr. Muthu at the CBRNE Industry Group Annual Awards Dinner on 12 May. The CBRNE Industry Group will make a donation of $1,000 in Dr. Muthu's name to the Science & Math Academy at Aberdeen High School in support of future young researchers.

---
About Signature Science, LLC:
A subsidiary of the Southwest Research Institute, Signature Science, LLC is a scientific and technical consulting firm providing multi-disciplinary applied research, technology design and development, and scientific, technical, and operational services to government and industry.