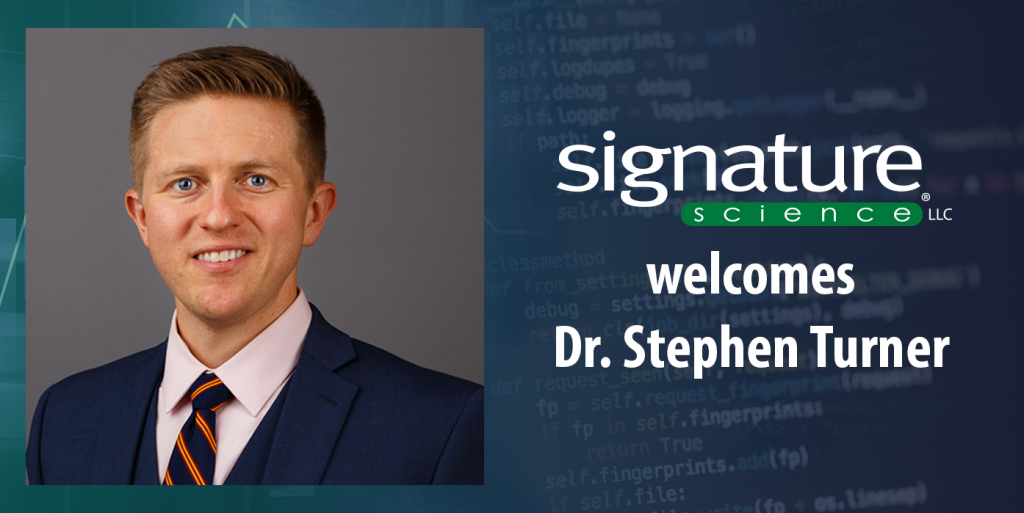 AUSTIN, TEXAS — Feb. 5, 2019 – Signature Science, LLC is pleased to announce that Dr. Stephen Turner has joined our firm as an S&T Advisor and will lead genomic R&D programs in DNA Forensics. Dr. Turner joins Signature Science after having been the founding director of the University of Virginia (UVA) School of Medicine Bioinformatics Core. While at UVA, he gained wide recognition as an expert in bioinformatics, biostatistics, computational biology, and genomics-related data science. Dr. Turner holds a Ph.D. from Vanderbilt University in Human Genetics (2010) as well as an M.S. in Applied Statistics (2009). He completed a post-doctoral fellowship in epidemiology at the University of Hawaii Cancer Center. With Signature Science, Dr. Turner will continue to apply his substantial informatics and genomics expertise to the fields of human identity, developing leading-edge forensic genomics solutions for national security, defense, and law enforcement challenges, such as cold case investigations.
Signature Science, LLC is a premier provider of global forensic services, encompassing collection, analysis, testing, and reporting capabilities from its laboratories in Austin, TX and Charlottesville, VA. Signature Science is working to bring forensic genomics solutions to the law enforcement community with the development and validation of next generation sequencing technologies and novel data analytic solutions.
"We are pleased to have Stephen join our Company. He is an exceptionally talented bioinformatician who will propel our human DNA offerings beyond the edge of current technology and practice," said Signature Science President and CEO, William M. Thompson. "He is working at the fore of genomics. Stephen's passions intersect with Signature Science's core forensics mission set and promise greater and more sophisticated and rapid response to the emerging demands of our clients and markets."
"I'm thrilled to join Signature Science at such an exciting time in the field of DNA forensics. Genome sequencing, data science, and genetic genealogy are poised to revolutionize DNA forensics, and I'm excited to join the distinguished team of exceptional scientists at Signature Science as we push this field forward with new capabilities and technology," said Dr. Turner.