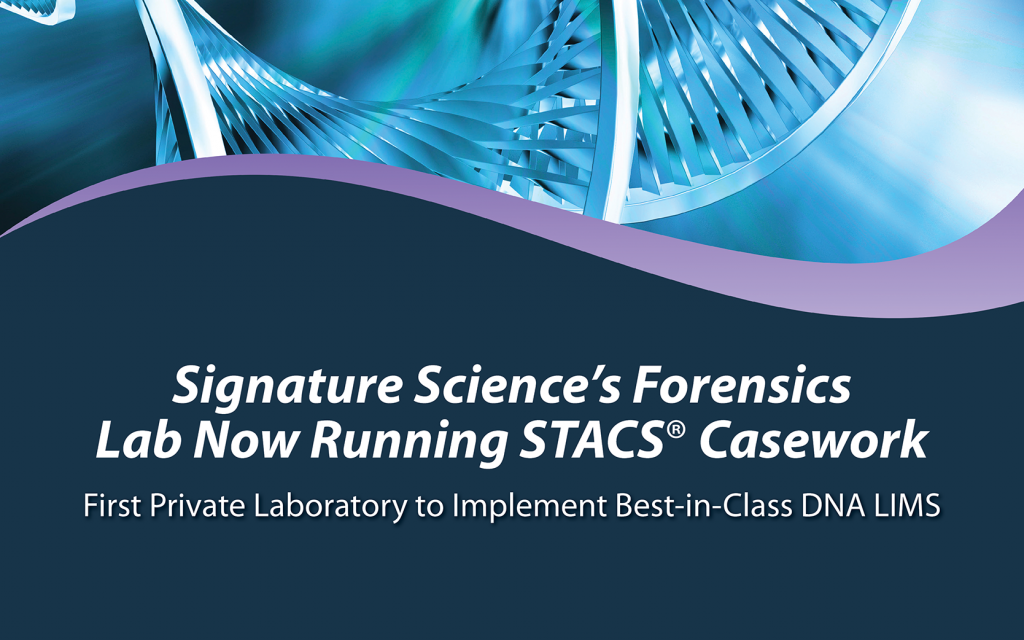 AUSTIN, TEXAS – May 12, 2020 – Signature Science, LLC, has implemented STACS Casework DNA sample tracking and laboratory management software in its ANAB-accredited laboratory in Austin, TX. The decision to invest in STACS Casework was driven by a corporate commitment to continuously improve the quality of its forensic laboratory offering. The software, developed by STACS DNA for forensic scientists, is designed to optimize workflow operations, ensure traceability of case processing, and support stringent quality assurance practices with built-in quality checks.
STACS Casework is streamlining routine tasks in Signature Science's DNA forensics laboratory and enabling analysts to dedicate more of their time to casework. The software's discovery module simplifies the discovery process, specifically by automating reporting by pulling the relevant SOPs and laboratory instrument technical data for each specific case out of a batch of analyzed samples. Other improvements include more complete and consistent records and a reduction in the time needed to perform reviews. The next phase of implementation will take place at the firm's genomics laboratory in Charlottesville, VA.
"Equipping the talented scientific and technical staff across our Center for Advanced Genomics enterprise, in both Austin and Charlottesville, with best-in-class STACS Casework is a natural progression of our growing DNA services offering," said William Thompson, Signature Science's President & CEO. "Investing in STACS immediately enhances our operations and adds value for our federal, state, and local law enforcement clientele."
Signature Science's Center for Advanced Genomics has laboratories in Austin, TX and Charlottesville, VA.
---
About Signature Science, LLC: A subsidiary of the Southwest Research Institute, Signature Science, LLC, is a scientific and technical consulting firm providing multi-disciplinary applied research, technology design and development, and scientific, technical and operational services to government and industry. The forensic DNA laboratory in Austin has been accredited since 2013 and provides outsource testing services for clients nationwide.