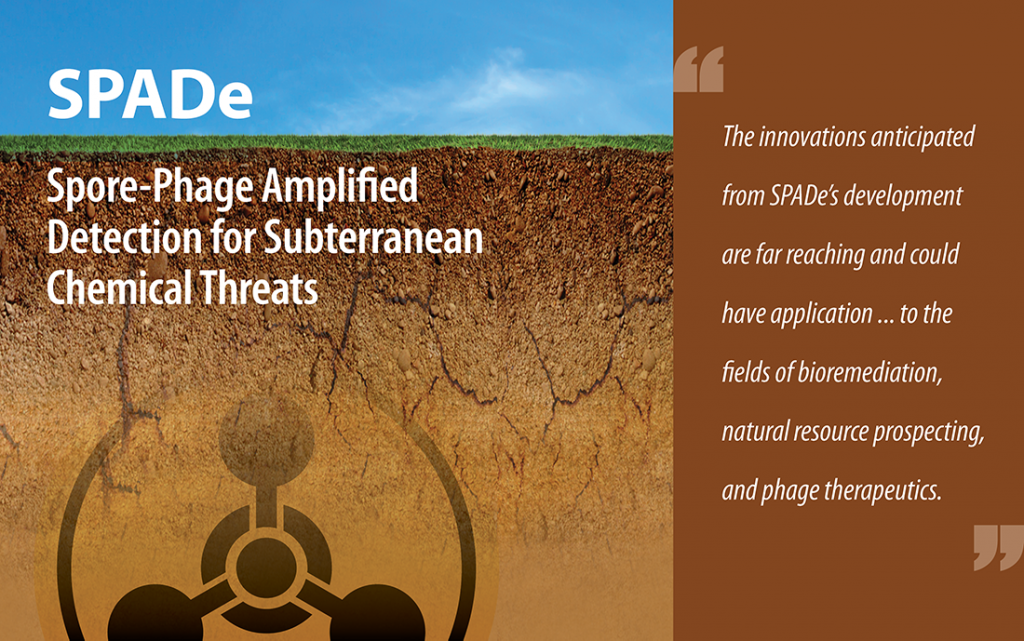 AUSTIN, TEXAS – Nov. 12, 2019 – Signature Science, LLC was awarded a $1.57 million contract to develop the Spore-Phage Amplified Detection (SPADe) method in response to a call by the Defense Advanced Research Projects Agency for biological systems for subterranean surveillance. Signature Science and its partner, the Texas A&M University Center for Phage Technology, aims to leverage modern and synthetic phage biology and the straightforward molecular genetics of the harmless soil bacterium Bacillus subtilis to generate a new platform to recognize and report on specific chemical threats underground.
The SPADe system, potentially extensible to explosives, radiation or physical disturbance sensing, seeks to substantially advance currently used techniques which rely heavily on manual soil testing. SPADe is intended to be deployed in remote or otherwise inaccessible areas of interest, offering a remote sensing capability that does not require direct interaction with the target soil.
"The innovations anticipated from SPADe's development are far reaching and could have application beyond DARPA's subterranean surveillance program, to the fields of bioremediation, natural resource prospecting, and phage therapeutics," said Curt Hewitt, Ph.D., Signature Science's Principal Investigator.
Work under the contract will be performed at Signature Science's facilities in Austin as well as at the Center for Phage Technology in College Station.
---
About Signature Science, LLC: A subsidiary of the Southwest Research Institute, Signature Science, LLC, is a scientific and technical consulting firm providing multi-disciplinary applied research, technology design and development, and scientific, technical and operational services to government and industry.
This material is based upon work supported by the Defense Advanced Research Projects Agency (DARPA) under Contract No. HR0011-19-C-0098. Any opinions, findings and conclusions or recommendations expressed in this material are those of the author(s) and do not necessarily reflect the views of the Defense Advanced Research Projects Agency.