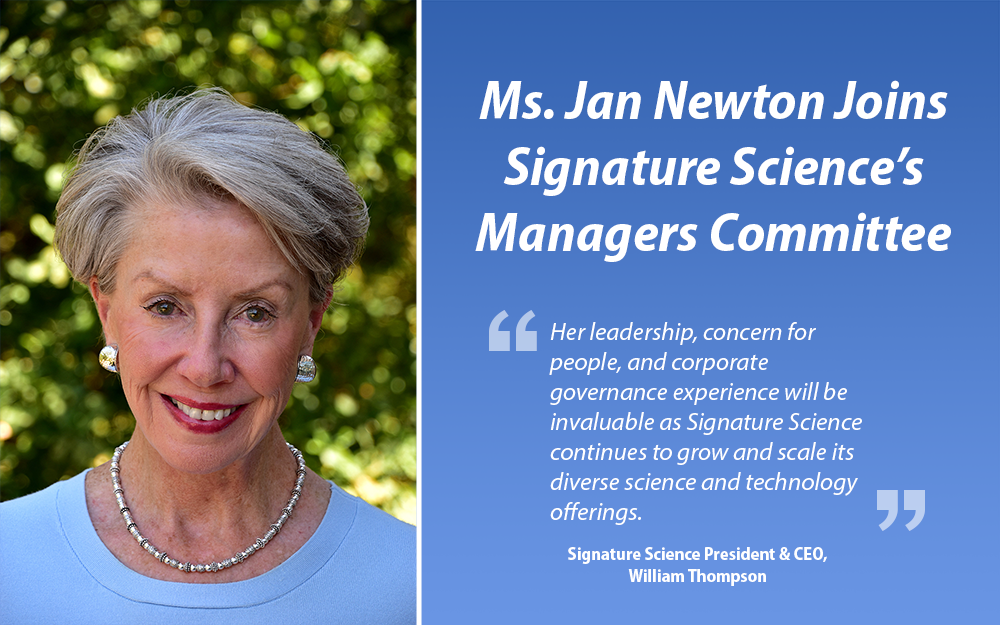 AUSTIN, TEXAS – September 23, 2021 – Signature Science, LLC is pleased to announce the election of Ms. Jan Newton to its Managers Committee. Her career includes over 30 years of executive experience in finance, sales, marketing, regulatory affairs, and corporate governance. Ms. Newton currently serves as a Director and Audit Committee Chair of the Southwest Research Institute, Signature Science's parent company.
Prior to her roles on the boards of Signature Science and Southwest Research Institute, Ms. Newton served as President of AT&T Texas (formerly SBC Communications), where she oversaw all state-wide operations, regulatory, and legislative affairs.
"We are delighted to welcome Jan as our newest Committee Member," said Signature Science President & CEO, Wm. Thompson. "Her leadership, concern for people, and corporate governance experience will be invaluable as Signature Science continues to grow and scale its diverse science and technology offerings."
---
About Signature Science, LLC
A subsidiary of the Southwest Research Institute, Signature Science, LLC is a scientific and technical consulting firm providing multi-disciplinary applied research, technology design and development, and scientific, technical and operational services to government and industry.