Looking Ahead to AAFS on February 22-25 in Seattle, WA
Signature Science is attending the upcoming AAFS Conference with five of our scientists presenting their latest work. AAFS will be a hybrid conference, with presentations and sessions occurring virtually, in-person, or both.
In-person attendees can look forward to seeing:
Michelle Peck, M.F.S  speaking on the topic "Internal Validation of the ForenSeq™ Kintelligence Kit for Application to Forensic Genetic Genealogy Cases." Ms. Peck will also be moderating the Criminalistics session entitled "What's Next in Next Generation Sequencing."
David Russell, M.S. displaying a poster titled "Developmental Validation of the Illumina Infinium® Assay using the Global Screening Array on the iScan® System for use in Forensic Laboratories".
Samantha Davis, M.S. displaying a poster titled "Magnetic Bead Capture of Sperm Cells by Sperm-Specific Antibodies"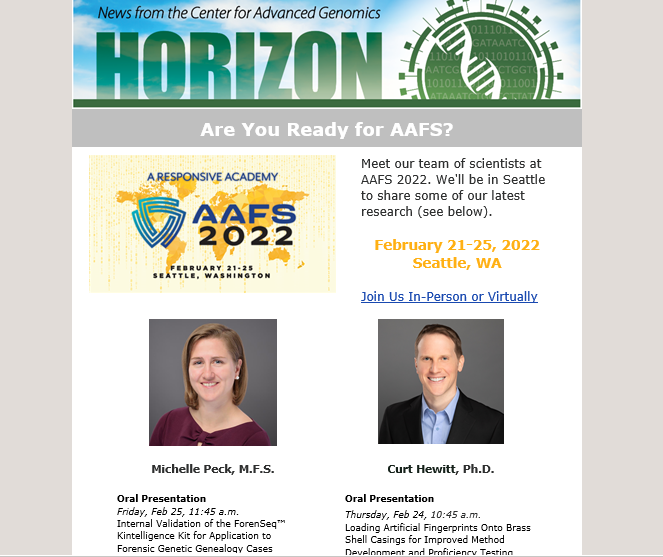 See the full lineup including virtual presenters, view the full Horizon newsletter and sign up for future updates here.