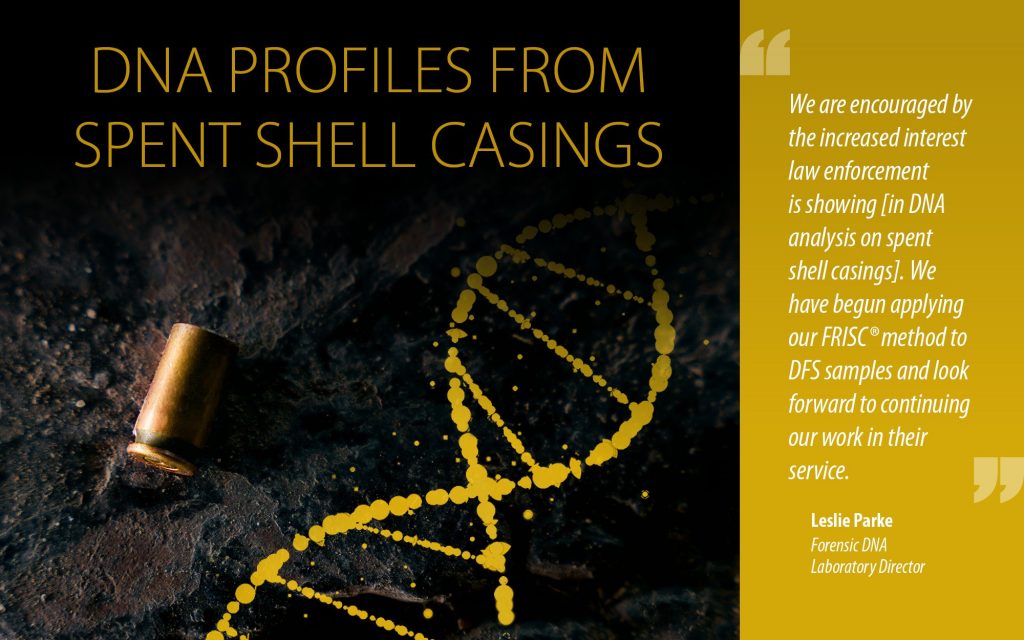 AUSTIN, TEXAS – April 12, 2022 – Signature Science, LLC was selected by the Department of Forensic Science (DFS) in Washington, D.C. to perform DNA and serology testing on fired shell casings recovered from crime scenes. Signature Science's ANAB-accredited forensic DNA laboratory has served DFS by performing outsourced casework since 2015 and is expanding its breadth of services under the new contract.
Spent shell casings, central to the new scope of work, have long served as valuable pieces of evidence to tie a weapon to a crime, yet present challenges for laboratory analysis. Signature Science developed and validated their proprietary method, Forensic Recovery of Identification from Shell Casings (FRISC®), to maximize DNA yield from shell casings. Use of the method since 2015 has resulted in the generation of DNA profiles that have been uploaded to CODIS and resulted in convictions.
"We are proud to have been awarded this contract," said Leslie Parke, forensic laboratory director and quality assurance manager. "While shell casings remain a challenging sample type, we are encouraged by the increased interest law enforcement is showing in this type of DNA analysis. We have begun applying our FRISC® method to DFS samples and look forward to continuing to our work in their service."
Base year funding for this contract is valued at $250,000. Work under this contract is taking place at Signature Science's headquarters facility in Austin, Texas.
---
About Signature Science, LLC:
A subsidiary of the Southwest Research Institute, Signature Science, LLC is a scientific and technical consulting firm providing multi-disciplinary applied research, technology design and development, and scientific, technical, and operational services to government and industry.