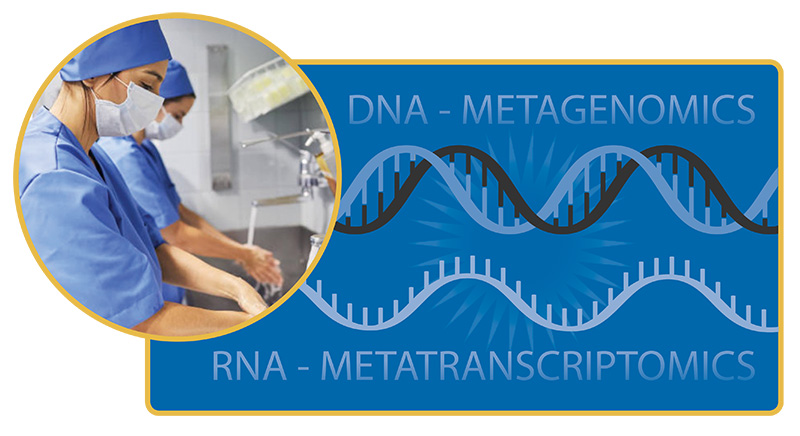 AUSTIN, TEXAS — Nov. 27, 2018 — The Centers for Disease Control and Prevention (CDC) has awarded Signature Science, LLC a contract to evaluate and develop tools which can detect and follow the spread of specific bacteria and microbial communities between people and across surfaces in healthcare settings.
The objective of the project is to assess the validity of metagenomic and metatranscriptomic analyses, derived from next generation sequencing (NGS), as a tool for detecting viable pathogen transmission events in healthcare settings. This study will simulate microbial communities, including the ESKAPE pathogens and Clostridium difficile, in unprotected direct skin-to-skin contact and indirect surface contact scenarios. While cultures are typically used to diagnose bacterial infections, NGS has the capacity to detect a wide variety of organisms in healthcare settings without the need for culturing. This project will demonstrate how well the NGS-dependent methods perform in predicting pathogen viability when compared to culture-dependent methods and may offer improvements to the mathematical models used to ascertain and predict the transmission of clinically important pathogens.
"We are pleased to support CDC's important initiative to reduce the number of healthcare-associated infections. We envision this project generating valuable data key to CDC's efforts to determine the role that NGS can play in HAI prevention," said William Thompson, President and Chief Executive Officer at Signature Science. "This award leverages our metagenomics expertise and liberates our researchers to accelerate the application of next generation sequencing technology as they develop a better understanding of the problem and paths to workable solutions.
Work under the contract is expected to be performed at Signature Science's headquarters facilities in Austin, Texas.
---
About Signature Science, LLC: A subsidiary of the Southwest Research Institute, Signature Science, LLC, is a scientific and technical consulting firm providing multi-disciplinary applied research, technology design and development, and scientific, technical and operational services to government and industry.