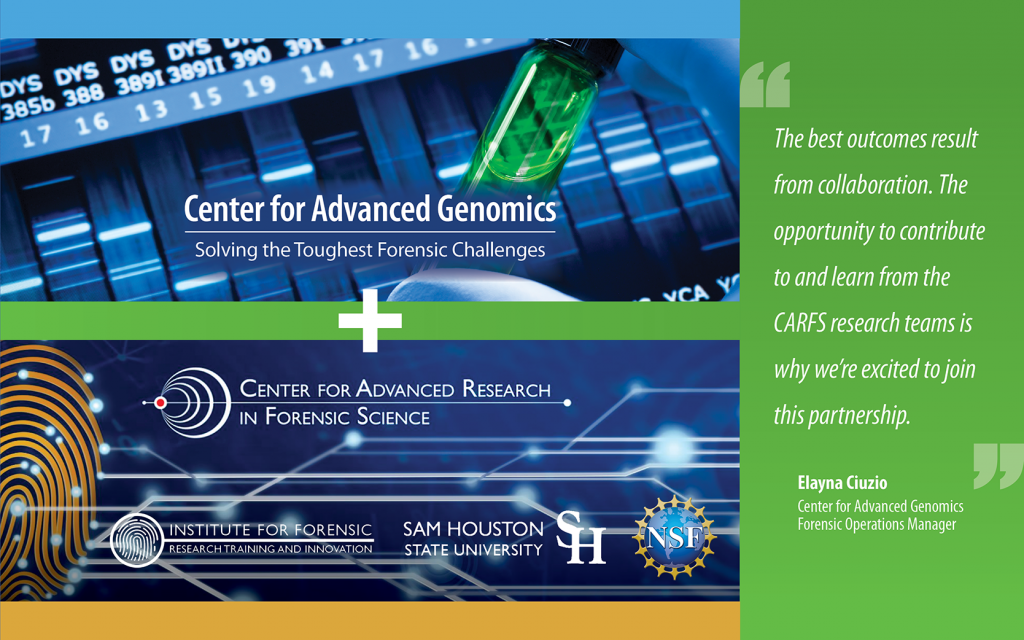 AUSTIN, TEXAS – November 03, 2020 – Signature Science LLC's Center for Advanced Genomics has joined Sam Houston State University in a cooperative effort to support the Center for Advanced Research in Forensic Science (CARFS), an Industry University Cooperative Research Center. CARFS' mission is to tackle emerging forensic science problems by bringing forensic science leaders in state-of-the-art laboratories and industrial partners together to develop collaborative solutions. The Center for Advanced Genomics will focus their resources on the evaluation of DNA extraction methods from bone and hair samples to identify laboratory methods to extract enough DNA material such that advanced genotyping methods such as massively parallel and whole genome sequencing can be used. Bone and hair samples, in many cases using traditional extraction methods, do not yield enough DNA to allow for the use of these advanced methods.
The Center for Advanced Genomics was founded in 2019 to focus Signature Science's forensic science expertise and best-in-class laboratories on the forensic community's toughest challenges in human identification. "At the Center, we have seen that the best outcomes result from collaboration, whether from our internal multidisciplinary teams or in concert with leading academic forensic science programs such as Sam Houston State's," said Elayna Ciuzio, The Center for Advanced Genomics' Forensic Operations Manager. "The opportunity to contribute to and learn from the CARFS research teams is why we're excited to join this partnership." The Institute for Forensic Research, Training and Innovation (IFRTI) was established at Sam Houston State University in 2014 to advance academic-industrial partnerships and promote interdisciplinary research. "Our commitment to industrially relevant research that improves the standard and practice of forensic science has been long-standing", said Dr. Sarah Kerrigan, Director of the IFRTI. "This most recent collaboration, and the opportunity to participate in CARFS is very exciting."
The Center for Advanced Genomics, as an industrial member, will serve on the Industrial Advisory Board which guides the research projects conducted at CARFS academic sites. The Center operates an accredited DNA forensics casework laboratory in Austin, TX and a genomics research and development facility in Charlottesville VA.
Sam Houston State University joins academic institutions Florida International University, the University of South Alabama, Texas A&M University, and Boston University. CARFS is jointly supported by the National Science Foundation and the National Institute of Justice.
For more information on the CARFS, please visit https://forensicresearch.org
---
About Signature Science, LLC: A subsidiary of the Southwest Research Institute, Signature Science, LLC is a scientific and technical consulting firm providing multi-disciplinary applied research, technology design and development, and scientific, technical and operational services to government and industry.