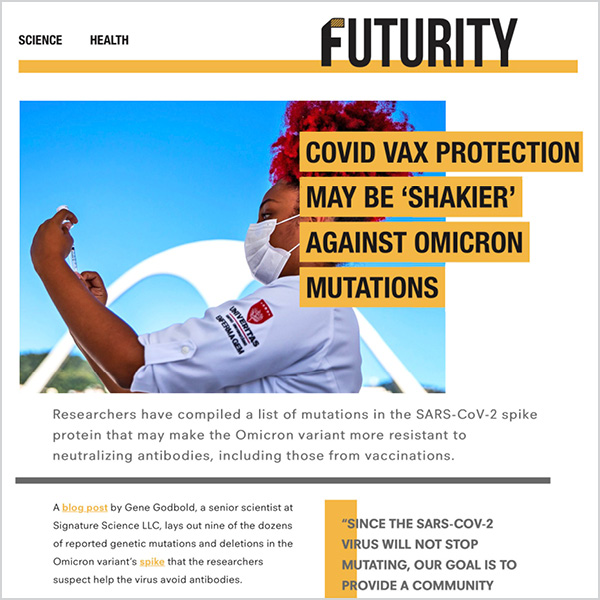 December 8, 2021 • An article posted on the academic research news website "Futurity" today highlights the work of SigSci Senior Scientist Gene Godbold. Gene has been working on a Centers for Disease Control and Prevention-funded project led by Rice computer scientist Todd Treangen with the goal of cataloging mutations in the SARS-CoV-2 virus.
Gene's latest work discusses nine of the many of reported genetic mutations and deletions in the Omicron variant's spike protein that may make the variant more resistant to both natural and vaccine-induced antibodies.
From the article:
"The project has allowed the team to aggregate a wealth of data being compiled about the virus. What we do is make sense of millions of SARS-CoV-2 genome sequences by combining literature citations and sequences in a way that makes it easy to interpret new viral variants soon after they are documented," Godbold says.
"These kinds of assessments could not be attempted without the hundreds of researchers around the world who have dedicated countless person-years to work on the virus to ascertain how the mutations function in both laboratory and clinical settings," he says.
"While additional data is needed to assess the severity of COVID-19 cases from Omicron infection, Godbold writes that the variant is likely to make SARS-CoV-2 not only more transmissible but also "one that can evade neutralizing antibodies induced by vaccination better than previously seen variants.
"This is not to suggest that vaccination is likely to be defeated by the Omicron variant, only that the protection conferred by vaccination is likely to be shakier than with previous variants of concern," he writes.
You can read the complete article on the Futurity website.