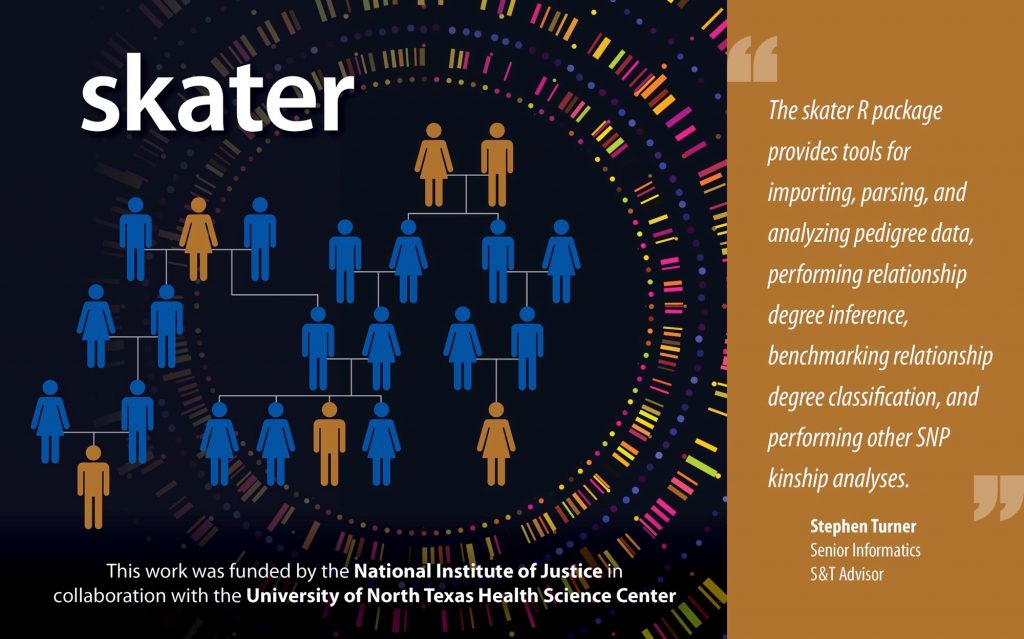 Abstract:
Motivation: SNP-based kinship analysis with genome-wide relationship estimation and IBD segment analysis methods produces results that often require further downstream processing and manipulation. A dedicated software package that consistently and intuitively implements this analysis functionality is needed.
Results: Here we present the skater R package for SNP-based kinship analysis, testing, and evaluation with R. The skater package contains a suite of well-documented tools for importing, parsing, and analyzing pedigree data, performing relationship degree inference, benchmarking relationship degree classification, and summarizing IBD segment data.
Availability: The skater package is implemented as an R package and is released under the MIT license at https://github.com/signaturescience/skater.
Documentation is available at https://signaturescience.github.io/skater.
View full preprint here.
---
Authors: Stephen D. Turner , V.P. Nagraj1, Matthew Scholz1, Shakeel Jessa1, Carlos Acevedo1, Jianye Ge , August E. Woerner2,3, Bruce Budowle2,3
1 Signature Science, LLC, Austin, TX 78759, USA
2 Center for Human Identification, University of North Texas Health Science Center, Fort Worth, TX 76107, USA
3 Department of Microbiology, Immunology, and Genetics, University of North Texas Health Science Center, Fort Worth, TX 76107, USA